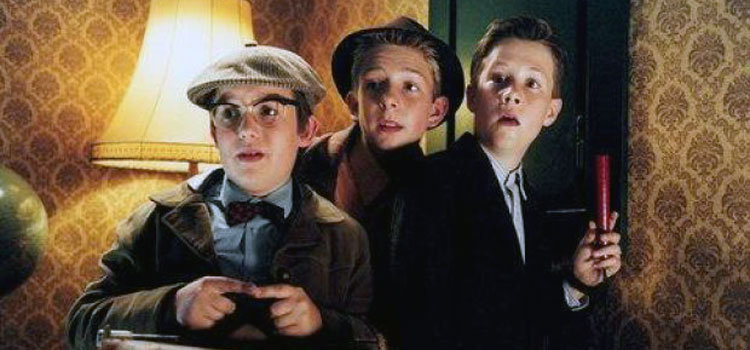 Junior Olsen Gang
A film by Peter Flinth
Cast : Aksel Leth, Jacob Bernit, Christian Stoltenberg, Signe Lerche, Jesper Langberg, Ellen Hillingsøe
"I need some itching powder, a slice of old cheese and a double-breasted suit" – these are the ingredients in one of Egon's numeroussly plans. Egon is an orphan who lives at a children's home and now he plans to be adopted – not by ordinary middle class parents of course, but by a rich couple.
With the help of his two friends Benny and Kjeld, Egon's plan is accomplished and happily he takes his seat in the Rolls Royce and looks forward to his new and luxurious life. But he is soon to discover that his new parents in reality are heading a top-secret space project and that they have bought Egon for a million Kroner – just to send him out in space as a guinea pig!
Egon escapes and feels cheated and deceived – now all he wants is to get the million Kroner! But the false parents are chasing Egon – will he get the million and avoid the space rocket?


Click to download
| | |
| --- | --- |
| Producers | Thomas Heinesen |
| Co-Producers | Rumle Hammerich & Erik Crone |
| French Rights | Nordisk |
| Nationality | Denmark |
| Running time | 85 min |
| Gauge | 1:1,85 |
| Format | 35 mm |
| Color | Colour |
| Screenplay | Anne-Marie Olesen, Lars Mering and Nikolaj Scherfig, based on an idea by Anne Marie Olesen and Lars Mering |
| Cinematographer | Torben Forsberg |
| Sound | Morten Degnbol and Stig Sparre-Ulrich |
| Editor | Ghita Beckendorff |
| Music | Bent Fabricius-Bjerre and Søren Hyldgaard |
© ninety seven film production and distribution
---