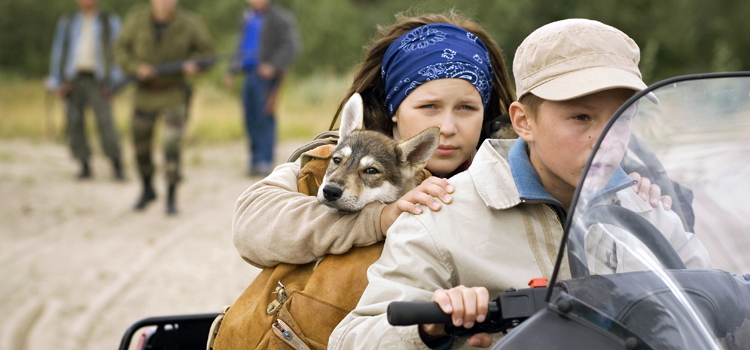 Mystery of the Wolf
A film by Raimo O Niemi
Cast : Tiia Talvisara, Janne Saksela, Vuokko Hovatta, Miia Nuutila, Kari-Pekka Toivonen, Peter Franzén
One day life changes for the 12year old schoolgirl Salla. Her biological mother Laila returns to the small village where Salla has been living happily with her adoptive parents for as long as she can remember. This makes Salla upset and her adoptive mother becomes afraid of loosing her daughter.

At the same time Salla is faced with another challenge, she has saved two wolfcubs from beeing illegaly hunted by poachers. Wolves are endangered but still a threat to the local livelihood, reindeer husbandry. The hiding and rescuing of the cubs from the poacher Venesmaa becomes a mission where Salla has to trust her instincts, her best friend and even her long lost mother.

Mystery of the Wolf is a story about Salla facing her own past. Besides blood tie, SallaLeila Lyytikäinen and Laila are united by their mysterious connection with nature and animals. In spite of her youth, Salla has to brave difficulties and make solutions which challenge the community and which simultaneously force her to define her own relationship with her two mothers.
Click to download
| | |
| --- | --- |
| Producers | Leila Lyytikäinen |
| Co-Producers | Börje Hansson, Ike Downey and Sam Taylor |
| French Rights | Nordisk |
| Nationality | Finland |
| Running time | 90 min |
| Format | 16:9 |
| Color | Colour |
| Screenplay | Heikki Vuento |
| Editor | Jukka Nykänen |
| Music | Sarah Class |
© ninety seven film production and distribution
---