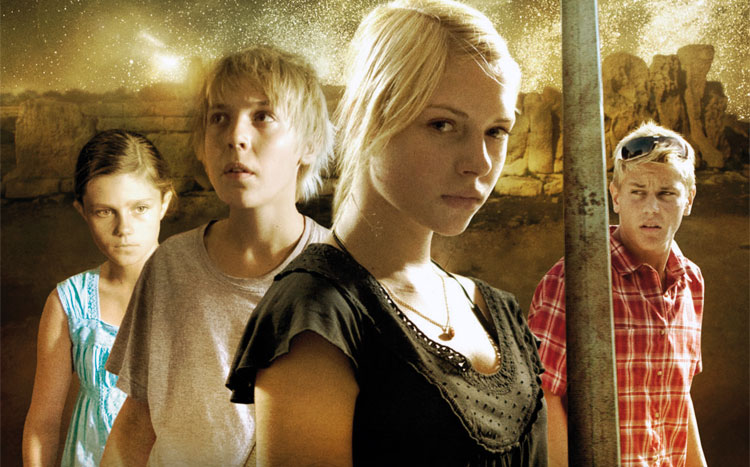 First Release Date : March 14th, 2008
Treasure Knights templar III
A film by Kasper Barfoed
Cast : Julie Grundtvig Wester, Nicklas Svale Andersen, Christian Heldbo Wienberg, Frederikke Thomassen, Peter Gantzler, Ulf Pilgaard
Katrine, aged 12, spends her vacation every year on the Danish island of Bornholm and through the years she has found a close friend in the island priest Johannes. She has also spent the summers hanging out with her friends Mathias, Nis and Fie. But this year things are going to be different.
Nis has stumbled upon a book claiming that the round churches of Bornholm have been built by the Knights Templar in the 1100s. And combined, the round churches will form a series of geometric shapes that can be seen as a treasure map. A map that might reveal the secret location of the mysterious treasure of the Knights Templar. A treasure that has been gone since 1307.
At the same time, strange events take place around the island. The kids witness men dressed in black robes, The Black Brotherhood, performing some kind of ritual. And in the middle of the ritual, the old priest, Johannes, is pushed off a cliff into his death. The kids decide to solve the murder case.
They are convinced that there is a link between Johannes' tragic death and the treasure, and therefore they commence a thrilling treasure hunt in which one clue leads to the next. Soon they realize that The Black Brotherhood is also looking for the treasure.
Following a terrifying escpe from the blaack hooded men the kids wind up in Osterlars round church - the place to where all the clues lead. Here they find a hidden entrance to a crypt below the church. A crypt that guards an incredible secret. But The Black Brotherhood also locates the crypt and they carry a trump. A final, gruelling battle will take place, and the kids will find help in places they never thought to look.
The Lost Treasure of the Knights Templar is an adventurous detective story about four kids on the Danish island of Bornholm. They get involved in a mystery surrounding round churches, secret fraterneties, the Knights Templar and a legendary treasure.
Click to download
| | |
| --- | --- |
| Producers | Kim Magnusson |
| Co-Producers | Tivi Magnusson and Mie Andreasen |
| French Rights | Nordisk |
| Nationality | Denmark |
| Running time | 89 min |
| Gauge | 2.35:1 |
| Format | Super16 / Super35 |
| Color | Colour |
| Screenplay | Philip Lazebnik, based on an idea by Mie Andreasen and Jakob Volver |
| Cinematographer | Jan Richter-Friis |
| Sound | Morten Degnbol |
| Editor | Kasper Leick |
| Music | Jeppe Kaas |
© ninety seven film production and distribution
---