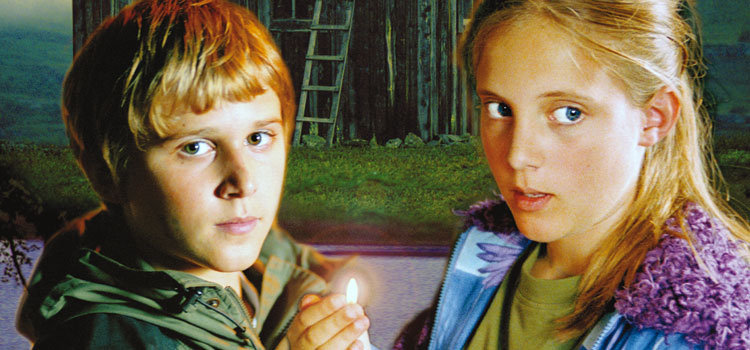 First Release Date : October 24th, 2003
Emma & Daniel
A film by Ingela Magner
Cast : Maria Gidlöf, Anastasios Soulis, Marie Richardson, Örjan Landström, Göran Schauman, Christian Fiedler
EMMA AND DANIEL – THE MEETING is a touching drama for children/family, based on a book by well renowned children's author Mats Wahl. Several of Wahl's books have been filmed previously. 12-year old Emma lives with her father Anders in a fishing camp, way up in Lappland in the Northern part of Sweden. Life consists of fishing trips, forest expeditions and a quiet life.
Emma's father has met a woman, Sara from Stockholm, through a personal ad. To Emma's horror, she is planning to visit them over the summer, together with her 12-year old son, Daniel. The nature loving Emma, who's still mourning her dead mother, doesn't appreciate the visit from the big city at all. Neither does Daniel, a computer freak who hates the idea of being stuck with grumpy Emma in the middle of nowhere, without electricity and everything!
In an attempt for some peace and quiet, Emma decides to join the old fisherman Isak for a three-day fishing trip up the river in the wilderness. To her disappointment, Daniel decides to join them. Suddenly, what was supposed to be a peaceful fishing trip, turns into unexpected drama, and Emma and Daniel find themselves all alone with just one another, forced to help each other to be able to find their way back home.
Click to download
| | |
| --- | --- |
| Nationality | Sweden |
| Format | 1:1,85 |
| Screenplay | Mats Wahl (based on his book) and Ingela Magner |
| Cinematographer | Mats Olofsson |
| Editor | Clas Lindberg |
© ninety seven film production and distribution
---