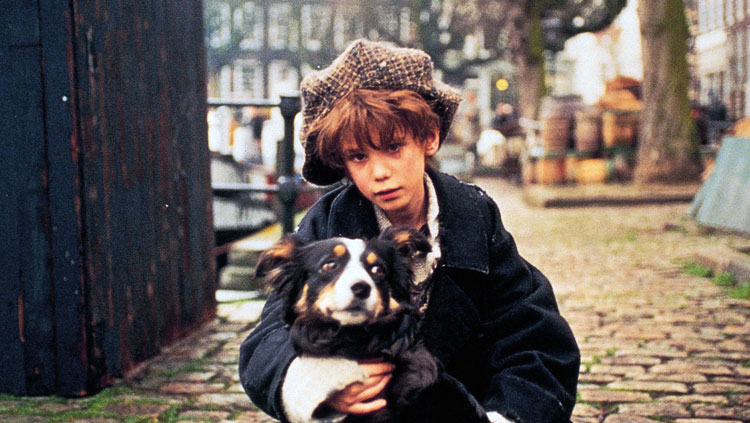 First Release Date : December 9th, 1999
Little Crumb
A film by Maria Peters
Cast : Ruud Feltkamp, Hugo Haenen, Eric van der Donk, Sacha Bulthuis, John Kraaykamp, Rick Engelkes
For ten-year old "Little Crumb", the streets are the only home he has ever known. It is true he has a lot of fun, getting into adventures and up to all kinds of mischief. But there is one thing missing from his life. In a locket that he treasures near his heart there is a picture of the parents that he never knew. All he does know is that they are alive and living somewhere. And it is his deepest wish to be reunited with them.
For years that dream has been a distant hope. But when he runs into kindly grocer, Chris Wilkes, it looks as though that dream may one day become a reality for– for it turns out that Chris knew "Little Crumb"'s father before he set sail for America ten years ago. Moved by the little boy's story, he agrees to go to the states to try and track the father down.
In the meantime, "Little Crumb", himself, meets the beautiful Vera di Barboni, and finds himself drawn to something very special about her. Is he mistaken, or could this be the same woman whose face is depicted on his precious locket? Through adventure filled with tears and laughter, "Little Crumb" takes us with him on a journey to find true happiness.
Click to download
| | |
| --- | --- |
| Producers | Movida/Trix, Shooting Star Filmcompany BV |
| Co-Producers | KRO Televisie, Movida-Trix, Brussel |
| Running time | 119 min |
| Format | 1.85 : 1 |
| Screenplay | Maria Peters |
| Cinematographer | Hein Groot |
| Editor | Ot Louw |
| Music | Jochem Fluitsma, Eric van Tijn, Henny Vrienten |
© ninety seven film production and distribution
---