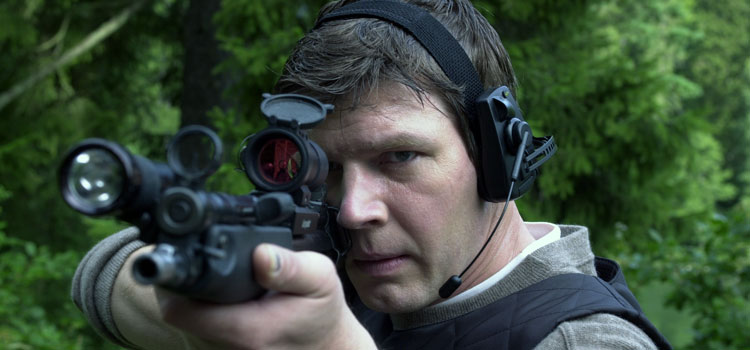 First Release Date : August 17th, 2001
Johan Falk Protection rapproché
A film by Anders Nilsson
Cast : Jakob Eklund, Samuel Fröler, Lia Boysen, Alexandra Rapaport, Christoph M. Ohrt, Marie Richardson
A new kind of criminality has hit Western Europe. The business concept is violent company take-overs and kidnappings. The only protection against these ruthless criminals may be a security company. Steadily these companies are becoming more and more important in the fight against crime. As long as you pay, and it's expensive, the bodyguards will do anything you ask them to. They have become the samurais of modern society.
Johan Falk's close friend Sven Persson owns a clothing company with some of its business located in the Baltic States. When his Estonian factory is sabotaged by the local mob, Sven contacts Nikolaus Lehmann, a security expert who promises to take care of the problem for a certain percentage of Sven's profit. Nikolaus does take care of the problem, ruthlessly and without mercy.
Sven, who is terrified by Nikolaus' methods, calls off their deal. He returns home, to what he believes to be a safe and well organised Sweden, hoping that everything will be OK. But to Nikolaus their agreement is still on. Suddenly not only Sven's company is in danger. Now it's about the survival of his family…
Executive protection is the sequel to Anders Nilsson's much talked about film Zero Tolerance. It is a clever and fast-paced thriller with some of Sweden's top actors. But Executive Protection is more than that. It's a film about the industrialised world closing its eyes on growing organised crime that, in the end, can threaten the law governed state.
Click to download
| | |
| --- | --- |
| Producers | Film i Väst, Sonet Film AB, Blind Spot Pictures Oy |
| Nationality | Sweden |
| Running time | 112 min |
| Format | 1:1,85 - 35 mm |
| Color | Color |
| Screenplay | Joakim Hansson, Anders Nilsson |
| Cinematographer | Per Arne Svensson |
| Editor | Darek Hodor |
| Music | Bengt Nilsson |
© ninety seven film production and distribution
---