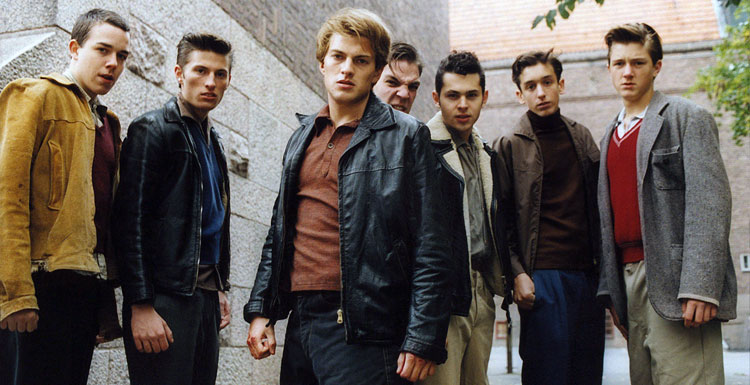 Evil
A film by Mikael Håfström
Cast : Andreas Wilson, Henrik Lundström, Gustaf Skarsgård, Linda Zilliacus, Jesper Salén
Stockholm, in the 1950s.
Erik is expelled from the local school for getting into one brawl too many. To protect Erik from his violent stepfather's reaction to his expulsion, Erik's mother arranges for Erik to spend a year at Stjärnsberg Boarding School. The only school willing to accept him. This is Erik's last chance to graduate to Upper School and he promises his mother, for his and her sake, to do all he can to stay out of trouble. Not to get into any more fights.
Arriving at Stjärnsberg is like stepping into another world, Erik discovers. The school is steeped in tradition; particularly the tradition of "fraternal upbringing" which leaves discipline in the hands of the students. A school council made up of senior pupils makes the rules. Its word is law and there is no appeal.
Erik's roommate, Pierre, advises Erik to follow the rules and, above all, not to draw attention to himself. In spite of their very different backgrounds and character, the two boys soon become close friends.
Erik refuses to submit to the arbitrary bullying by the senior boys in the name of "fraternal upbringing". Knowing that if he gives way to his feelings and hits back he will be expelled, Erik begins a campaign of civil disobedience. Pierre helps and supports him. He becomes Erik's mentor, able to see qualities in Erik that Erik himself is unaware of.
Led by the aristocratic Silverhielm, the council harasses and provokes Erik, then punishes him by confining him to the school every weekend. Erik doesn't mind. He uses the time to study.
Alone in the refectory at weekends, Erik makes friends with the pretty 19 year old serving girl, Marja. They are both outsiders in the world of Stjärnsberg. Theirs is a short, fleeting and impossible love
Silverhielm and the council realise they cannot bully Erik into submission. Silverhielm changes his tactics. He bullies the physically weaker Pierre instead, knowing the two boys' friendship. Pierre resists bravely for as long as he can, but finally leaves the school. The violence against Eric escalates. Marja is sacked. Erik is alone.
Silverhielm steals the letter Marja writes to Erik and tries to get Erik expelled because of it. The attempt fails. Erik stays on.
Erik returns home after graduating. He has the strength and the confidence, now, to stand up to his stepfather and banish once and for all out of his and his mother's life.
Click to download
| | |
| --- | --- |
| Producers | Nordisk Film, Svenska Filminstistutet, Moviola Film och Television AB |
| Nationality | Sweden, Denmark |
| Running time | 113 min |
| Screenplay | Jan Guillou, Hans Gunnarsson, Mikael Håfström |
| Cinematographer | Peter Mokrosinski |
| Editor | Darek Hodor |
| Music | Francis Shaw |
© ninety seven film production and distribution
---