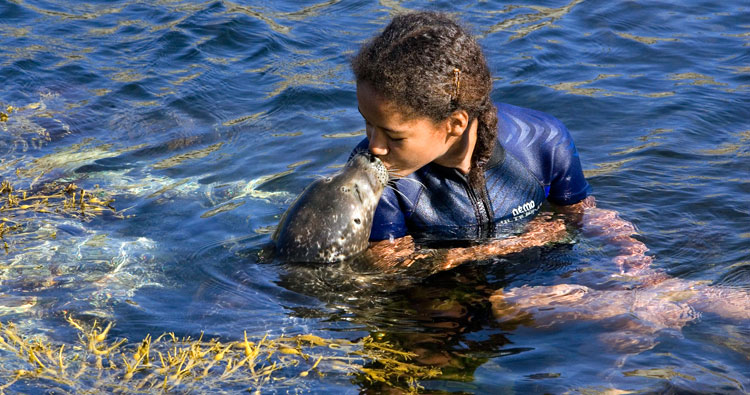 First Release Date : December 18th, 2008
SOS: Summer of Suspense
A film by Arne Lindtner Næss
Cast : Ina Bye-Hansen, Sander Berglund Francis, Ragnhild Gudbrandsen, Nadine Hegvold, Janne Langaas, Banthata Mokgoatsane
In high winds a large ship ploughs northwards. From a lighthouse they receive the agreed signal, and two red buoys are thrown overboard. A small boat sets off from land. They only find one buoy. At the same time a baby seal is separated from its mother in the high waves at cormorant reef. Next morning the wind has dropped and the sea is calm.
Noora (12) lives on the island together with her family. As she is driving her family's sheep to grazing land at Vassholmen, she suddenly hears a small shriek and discovers a baby seal in a bay. The seal is playing with a buoy. Beneath the buoy is a mysterious package.
Noora's mother rents small fisherman cottages to tourists. Staying on the island are a German couple and three youths. The German Dieter mainly hunts seals on the reefs around the island. There is a price on their heads.
Jasmin has to keep the baby seal away from Dieter. At the same time some of the other visitors have started an intense search along the beaches for the missing package.
We follow Noora swimming with the seal – see her hide it from the hunters – when she is shot in the ear by Ludvik, a boy the same age as her – when her parents find out – and when she spins a web of "white" lies to hide the baby seal Zelters. She manages to keep most things under control until her little brother Morten cuts the buoy loose and makes a hole in the package. It is full of white powder.
Her mother, who is 8 months pregnant, slips and falls. Her father has to take her to the hospital. The children are left alone on the island with both the seal hunters and drug smugglers.
A storm blows up again. The children hide Zelters and the drugs. The telephone line is cut. The children flee in Noora's boat. The smugglers catch them and force them to choose between saving Zelters, or handing over the drugs. Finally they are abandoned in the big lighthouse, with the night approaching..

Click to download
| | |
| --- | --- |
| Nationality | Norway |
| Running time | 87 min |
| Screenplay | Arne Lindtner Næss |
| Cinematographer | Sjur Aarthun |
| Editor | Helge Billing |
| Music | Trond Bjerknes |
© ninety seven film production and distribution
---